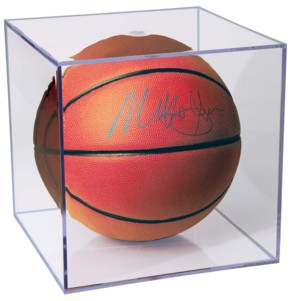 Clear Acrylic Basketball / Soccer Ball Display Case
Model: SPC3
Overall Exterior Size: 10 1/8"W x 10 1/8"D x 10 1/4"H
Interior Dimensions: 9 7/8"W x 9 7/8"D x 10"H
0.118" Clear Acrylic (1/8" or 3mm) with Smooth, Polished Edges.
2 Corners are Rounded and 2 Corners are Flat.
Clear Acrylic Base Has a Clear Acrylic Removable Ring to Hold Ball In Place.
Cover Fits on Clear Base and is Easy to Take Apart.
Rubber Feet on the Bottom Will Protect Your Furniture!
Great for Displaying Your Priceless Autographed Basketball, Soccer Ball or Other Products, Awards, or Collectibles.
Quantity
Price Each
1-4
$42.20
5-11
$34.85
12-23
$29.12
24+
$25.35
The SPC3 is a Clear Acrylic Basketball Display Case. Our Sports Display Cases Are Sized Right To Hold and Display Sports Balls or Other Products, Trophies, Collectibles, Awards, Etc. Hand Manufactured from Sturdy Crystal Clear Acrylic, This Plexi Display Case is Durable and is Built to Last.