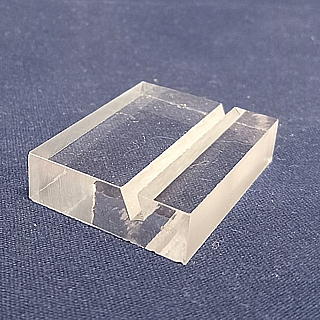 Clear Acrylic Sign Block
SBA1 (50 per bag)
Overall Size: 1 1/4"W x 1"D x 3/8"H
Sold in Bags of 50 units only
High Quality Clear 3/8" Thick Acrylic with Smooth, Finished Edges. Full Width Slit Included
Great For Small Cards, Price Tickets, Name Cards, etc.
Made in USA
Quantity
Price Per Bag of 50 units
1-4 Bags
$30.00
5-9 Bags
$22.50
10-19 Bags
$17.88
20+ Bags
$16.75
Our Clear Acrylic Sign Blocks are Durable Thick Units to Display Your Price Tickets, Item Descriptions, Name Cards, Business Cards, etc.. These High Quality Display Blocks All Have Smooth Finished Edges for an Upscale Look.