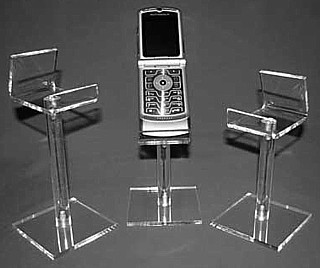 Clear Acrylic Pedestal Riser Stands
Model: PRSET
Set of 3 Units: 2"W x 3"D x 2"H with 1/2" Front Lip in Heights of 4", 5" and 6"
Sturdy 5/32" Clear Acrylic Cradle Tops
1/2" Diameter Center Rod and 3 3/8" x 3 3/8" Base with Smooth, Polished Edges
Simple and Easy Assembly Required
Great for Cellular Phones, Jewelry, Small Electronic Devices, or Other Small Items.
Quantity
Price Per Set of 3
1-24
$12.50
25-99
$9.38
100+
$8.38
The PRSET is a Set of Clear Acrylic Pedestal Stands Perfect for Holding and Displaying Standard Cell Phones. Our Acrylic Pedestal Risers Can Be Used to Hold Products Other Than Cellphones, Such As Small Boxed Items, Jewelry, etc. Hand Manufactured from Sturdy Crystal Clear Acrylic, These Plexi Stands are Durable and are Built to Last.