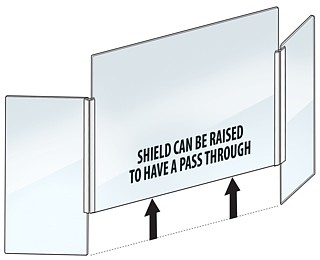 Simply Raise the Center Panel and Create a Passthrough!
Acrylic Free Standing 3 Panel Sneezeguard
Model: MSG2848
Maximum Overall Size: 59 3/8"W x 28"H
Optimal Overall Size: 48"W x 28"H
Main Panel is 35 5/8"W x 28"H and Side Panels are 11 7/8"W x 28"H
Clear 1/4" (0.250 or 6mm) Acrylic
with Smooth, Polished Edges
3 Solid Flat Panels and 2 Clear Flexible "H" Hinges for Easy Assembly and Versatile Setup
Great for Cash Registers, Customer Service Windows, Banks, Doctor's Offices, Retail Counters, Offices, Reception Desks and More!
Please Allow UP TO 1 Week for Production - Ask About Custom Sizes!
Made in USA
Quantity
Price Each
1
$180.00
2-5
$171.60
6-11
$160.80
12-24
$150.00
25+
$140.00
MSG2848 is a Clear Acrylic 3 Panel Free Standing Sneezeguard that is a Durable, Sturdy Unit to Aid in Reducing or Eliminating the Spread of Aerosol Transmission of Infectious Pathogens Such as Novel Coronavirus (COVID-19) and others. These High Quality Shields Feature Quick and Simple Assembly with 3 Flat Panels and 2 Clear Flexible H Hinges, These Versatile Barriers Can Be Set at Different Angles To Work in Your Space. Solid Construction and Generous Bottom Openings Make This Multi-Panel Sneezeguarda Great Safety Addition to Your Store, Bank, Office or Other Customer Contact Area.