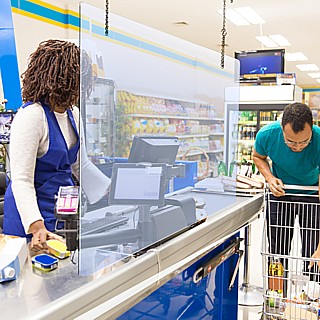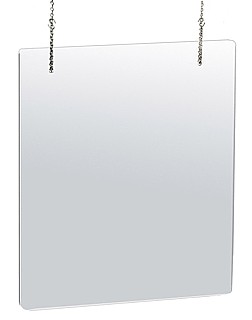 Clear Acrylic Hanging Cashier Shield/Barrier Panel
Model: HCS4030
Overall Size: 30"W x 40"H OR 40"W x 30"H
Includes holes for hanging Vertically OR Horizontally
Clear 0.100" (1/10") Acrylic
with Rounded Corners and Smooth, Polished Edges
Easy Assembly with 2 included 7 Foot Metal Chains and Ceiling Mounts
Great for Cash Registers, Customer Service Windows, Banks, Doctor's Offices, Retail Counters, Offices, Reception Desks and More!
Ask About Custom Sizes!
Made in USA
Quantity
Price Each
1
$132.00
2-5
$99.00
6-11
$95.00
12-24
$89.00
25+
$82.50
HCS4030 is a Clear Acrylic Hanging Sneezeguard Panel that is Durable, Sturdy Cashier Carrier or Shield Unit to Aid in Reducing or Eliminating the Spread of Aerosol Transmission of Infectious Pathogens Such as Novel Coronavirus (COVID-19) and others. These High Quality Shields Feature Quick and Simple Assembly with Two Metal 7 Foot Chains and Mounting Hardware and a Single Flat Acrylic Panel. Thick Panels and Strong Hanging Chains Make This Sneezeguard Panel a Great Safety Addition to Your Store, Bank, Office or Other Customer Contact Area.