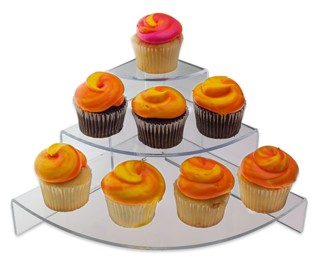 Clear Acrylic Curved Riser (set of 3)
Model: CUR2
Overall Sizes:
5"W x 3 5/8"D x 6"H
6 3/8"W x 4 1/2"D x 2 3/4"H
13 3/8"W x 9 1/2"D x 2"H

Stack them to make a unique tower display!
0.188" Clear Acrylic (3/16")
with Smooth, Polished Edges
Great for Small Products, Collectibles, Knick Knacks, etc.
Quantity
Price Each
CLOSEOUT 1 Left
1
$25.00
The CUR2 is a Clear Acrylic Curved Front Riser Set. Our Acrylic Risers Can Be Used to as a Pedestal to Hold Products, or Other Small Items For Display. Hand Manufactured from Sturdy Crystal Clear Acrylic, This Plexi Riser is Durable and is Built to Last. The Stylish Curved Rounded Front Draws Attention to Your Products.