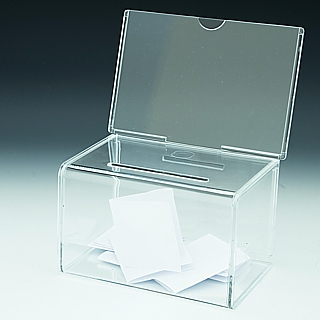 Clear Non-Locking Coin / Ballot Box
Model: BB1-NL
Main Box Exterior Size: 6"W x 4 1/4"D x 3 3/8"H
Header Fits 6"W x 4 1/8"H inserts
Sturdy Clear Acrylic
with Removable Header
NO LOCK
Great for Coin Donations, Contest Entries, Business Card Drops, etc.
Don't Forget Pens, Card Holders, Etc.
Quantity
Price Each
1-11
$18.86
12-49
$10.21
50-99
$9.19
100+
$7.15
The BB1-NL is a Clear Acrylic Non-Lockable Coin or Suggestion Box with Removable Header. This Small Ballot or Comment Box Can Be Used for Contests, Charities, etc. The Included Removable Header Allows Descriptive Announcements for the Use of the Box. Manufactured from Sturdy Crystal Clear Acrylic, This Ballot Box is Durable and is Built to Last.